Fire Blizzard (ファイアブリザード, Faia Burizādo) is a combination shoot hissatsu technique.
Users
Info
Nagumo and Suzuno used it during the match of Chaos versus Raimon, where it makes the 11th goal to Chaos, breaking through Mugen The Hand. This technique is later used during the match Fire Dragon Vs. Inazuma Japan and tried to score a goal against Tachimukai's Mugen The Hand G5, which succeeded in breaking through it. However, Kogure Yuuya and Kurimatsu Teppei saved the goal together. In the game, when Nagumo learns it, it's Fire Element. If Suzuno learns it, it will be Wind Element.
Usage
While in mid-air, the feet of the users itself are covered by a fire and an ice aura, then the ball is kicked simultaneously being surrounded by both auras and diving directly to the opposite team's goal.
Gallery
Slideshow
Anime
Video
Anime
Game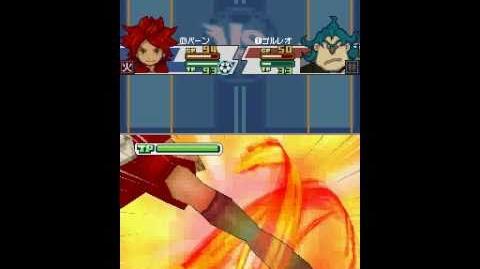 Inazuma Eleven Strikers 2012 Xtreme
Inazuma Eleven Online
Trivia
In the anime, Nagumo uses his right leg, while he uses his left leg in the game. Suzuno uses his left leg in the anime, but his right leg in the game.
It is one of the strongest hissatsu in the second game, along with The Earth, Neo Galaxy and Crossfire.
It is similar to Crossfire in the fact that it has a combination of fire and wind element.