Fake Bomber (フェイクボンバー, Feiku Bonbā) is a block hissatsu technique.
Game description
Inazuma Eleven 2: Kyoui no Shinryakusha
"Sneakily switch the ball with a bomb! (Don't try this at home.)"
Users
Info
Debuted in episode 100, this hissatsu was used against Kiyama Hiroto several times.
Usage
The user runs towards the player and steals the ball and replaces the ball with a bomb that explodes.
Slideshow
Anime
Video
Anime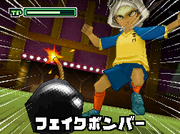 Inazuma Eleven GO Strikers 2013