Evolution
Data
JP name
エボリューション
Dub name
Triple Threat
Type
Shoot
Element
Earth
Characteristic
Shoot Chain
Power
140 (Chrono Stone)
190 (Galaxy)
Shibire damage
40 (Chrono Stone)
5 (Galaxy)
Users
3
Evolution
Normal → G2 → G3 → G4 → GX (GO and CS)
Normal → G2 → G3 → G4 → GX → GO (Galaxy)
TP consumption
Inazuma Eleven GO
70
Inazuma Eleven GO 2
60
Inazuma Eleven GO Galaxy
85
Strikers 2012 Xtreme
50
GO Strikers 2013
40
Debut
Game
Inazuma Eleven GO
Anime
Inazuma Eleven GO the Movie: The Ultimate Bonds Gryphon
Evolution (エボリューション, Eboryūshon) is a combination shoot hissatsu technique.
Users
Info
It appeared in the GO movie, used by Tenma, Shindou and Tsurugi. Hebino wasn't able to block it using Serpent Fang, but the hissatsu was later stopped by Hakuryuu's and Shuu's Zero Magnum.
Obtainment
Inazuma Eleven Strikers 2012 Xtreme
You must have 75% friendship between Tenma, Shindou and Tsurugi to acquire this technique.
Usage
First, two users lift the ball and both shoot downwards, similar to how it's done in Joker Rains's usage. Then, a third user runs and kicks the ball like in Mach Wind's usage. The ball heads to the goal with a huge blue aura, surrounded by dark lightnings.
Slideshow
Movie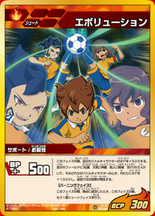 Video
Movie
GO Game
Inazuma Eleven Strikers 2012 Xtreme
Trivia