Eiffel Drive (エッフェルドライブ, Efferu Doraibu) is a game exclusive shoot hissatsu technique.
Users
Inazuma Eleven 3
Usage
Eiffel Drive is a hissatsu where the ball is kicked high in the air, and goes up to the Eiffel Tower, spins, and then heads down to the goal.
Slideshow
Game
Video
Game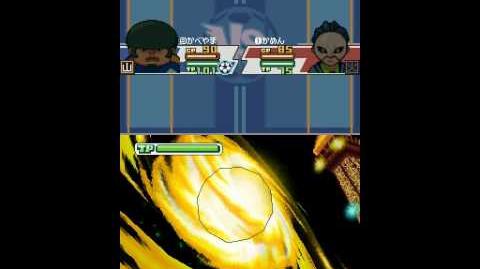 Trivia
It's very similar to Tsuutenkaku Shoot.
This hissatsu is based on the Eiffel Tower.
Due to unknown reasons, Eiffel Drive isn't part of the European Inazuma Eleven 3 game. It is speculated that this was done out of fear of copyright infringement over the real life building of the Eiffel Tower. 
Ad blocker interference detected!
Wikia is a free-to-use site that makes money from advertising. We have a modified experience for viewers using ad blockers

Wikia is not accessible if you've made further modifications. Remove the custom ad blocker rule(s) and the page will load as expected.