Eagle Buster (イーグルバスター, Īguru Basutā) is a shoot hissatsu technique.
Users
Info
This move was only shown during Oumihara's friendly match against Raimon, but it failed to break through Endou's Majin The Hand.
Usage
One user throws the two others in the air with the ball. As the two kick the ball with their soles, an eagle flies by hitting the ball straight towards the goal.
Slideshow
Anime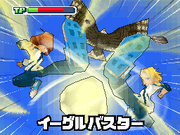 Video
Anime
Game
Trivia
This hissatsu can be considered the evolution of Hawk Shot.
Ad blocker interference detected!
Wikia is a free-to-use site that makes money from advertising. We have a modified experience for viewers using ad blockers

Wikia is not accessible if you've made further modifications. Remove the custom ad blocker rule(s) and the page will load as expected.