Dust Javelin (ダストジャベリン, Dasuto Jaberin) is a shoot hissatsu technique that appeared in Inazuma Eleven GO Galaxy.
Users
Inazuma Eleven GO Galaxy
Info
It was first used in episode 23 by Kazerma Woorg. It broke through Wild Dunk and scored a goal for Sandorius Eleven.
Usage
The user runs with the ball and kicks it up high, making it spin and explode into a dust cloud. The ball then heads toward the goal covered by sand/dust in the shape of a javelin.
Slideshow
Video
Anime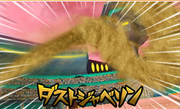 Game