Douhara Teito (銅原 帝人) is a midfielder for Genei Gakuen.
Appearance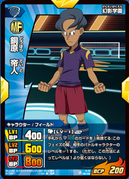 Douhara has dark grayish-blue hair and big, reptile-like violet eyes. He also has tanned skin.
Plot
He played against Raimon in episode 34 as a member of Genei Gakuen. He was passed many times by Shindou Takuto which made him a bad midfielder even though Genei Gakuen scored three goals. But at the end, Raimon won with 4-3 because Amagi stopped Maboroshi Shot with his new hissatsu, Atlantis Wall.
Game appearance
Character avatar
| | Avatar |
| --- | --- |
| Genei Gakuen uniform | |
Stats
All stats are at level 99 and untrained.
Hissatsu
Inazuma Eleven GO
Inazuma Eleven GO 2: Chrono Stone
Inazuma Eleven GO Galaxy
Ad blocker interference detected!
Wikia is a free-to-use site that makes money from advertising. We have a modified experience for viewers using ad blockers

Wikia is not accessible if you've made further modifications. Remove the custom ad blocker rule(s) and the page will load as expected.