Doon Shout (ドーンシャウト, Dōn Shauto), also known as Keeper Command 03 (キーパーコマンド03, Kīpā Komando Zero-Surī), is a catch hissatsu technique.
Users
Info
It was first used in episode 1 to stop Fei's Bouncer Rabbit. In episode 2, Zanou used it again but it was beaten by Kodai no Kiba.
In episode 3, it was used two times to stop Tenma's Shin Mach Wind and he and Yuuichi's Keshin Armed's shoot but failed.
In episode 4, Zanou used it another time to stop Yuuichi's Death Drop but failed.
Zanou used it again in episode 8. He stopped the chain shoot formed by Nishiki's Bushin Renzan and Tenma's Shin Mach Wind, but later failed to do so, due to Tenma's Keshin Armed shoot.
In episode 11, it was beaten by Tsurugi's Keshin Armed shoot.
In episode 16, Zanou tried to block Tsurugi's Keshin Armed shoot with this hissatsu again, but failed. Later, he could not stop Shindou's Keshin Armed shoot with it. In the end, Zanou tried to use it against Setsuna Boost, but was ordered by Beta to not use it and let her block it on her own.
Usage
The user's hands charge with light blue energy. When the ball approaches, the user releases the energy, creating a kind of explosion that removes all the energy from the ball.
Slideshow
Anime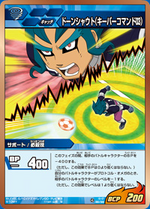 Video
Anime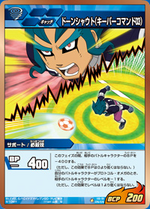 Inazuma Eleven GO Strikers 2013
Ad blocker interference detected!
Wikia is a free-to-use site that makes money from advertising. We have a modified experience for viewers using ad blockers

Wikia is not accessible if you've made further modifications. Remove the custom ad blocker rule(s) and the page will load as expected.