Dimension Cut (ディメンションカット, Dimenshon Katto) is a block hissatsu technique.
Users
Info
Game
Kariya used this hissatsu in one of the Inazuma Eleven GO game matches.
Anime
It was also used by Genei Gakuen's midfielder, Kobato Hiroo, during the match against Raimon in order to steal the ball from Hamano Kaiji.
Slideshow
Anime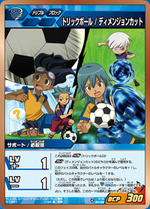 Video
Anime
Inazuma Eleven GO Strikers 2013
Ad blocker interference detected!
Wikia is a free-to-use site that makes money from advertising. We have a modified experience for viewers using ad blockers

Wikia is not accessible if you've made further modifications. Remove the custom ad blocker rule(s) and the page will load as expected.