Devil Burst (デビルバースト, Debiru Bāsuto) is a shoot hissatsu technique.
Description
Inazuma Eleven GO 2: Chrono Stone
"Fly high on dark wings and boot the ball supported by mysterious powers."
Users
Info
Inazuma Eleven GO movie
Tsurugi used Devil Burst during the match between Raimon and Ancient Dark in the forest located at God Eden. Devil Burst however was stopped by Ashiya Noboru's Kill Bridge.
Inazuma Eleven GO Chrono Stone
It appeared in episode 28, but it was stopped by Shuten's Sand Cutter.
Crossover movie
It was used in the crossover movie in the match against Destructchers. It was stopped by Lotus's Destiny Cloud.
Inazuma Eleven GO Galaxy
It appeared in episode 3, making the second and winning goal against Fire Dragon.
Usage
First the user stands with his/her arm crossed as two dark wings appear in user's back. Then he/she flies high while spinning and shoots the ball towards the goal with a volley kick as their wings disappear and charge the ball with dark red and black flare energy.
Gallery
Slideshow
Anime
Video
Anime
Movie
GO game
Inazuma Eleven GO Strikers 2013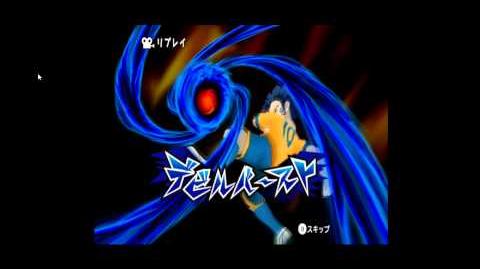 Trivia