Devil Ball (デビルボール, Debiru Bōru) is a dribble hissatsu technique.
Profile
Inazuma Eleven Strikers
"Turn the ball into a little devil! It will mock your rival as it zooms around!"
Users
Info
It is used to confuse the opponent as to where the ball is to get it past them. It is very similar to Angel Ball, used by Tenkuu no Shito.
Usage
The user bounces the ball once on their thigh then kicks the ball up high. The ball grows a pair of devil wings a a devil tail. The ball flies around the opponent confusing and passing them until the user stop it a stomping on it.
Slideshow
Anime
Video
Anime
Game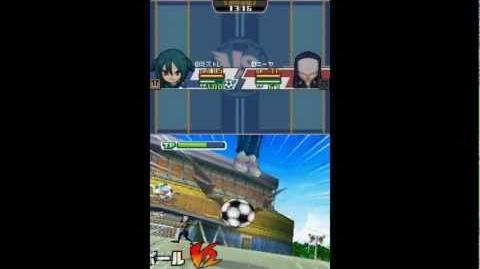 Inazuma Eleven Strikers 2012 Xtreme
Trivia
This move has an opposite version called Angel Ball.