Death Zone (デスゾーン, Desu Zōn) is a shoot hissatsu technique.
Description
Inazuma Eleven 2
"A super shot powered by three players in a deadly triangle."
Users
Usage
The user, along with two partners jump with the ball. In mid-air, they rotate around the ball, making a purple triangle made of darkness. When the ball has collected enough energy from the triangle, the users shoot with all the energy from the triangle collected on the ball.
Slideshow
Anime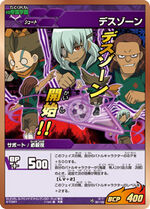 Video
Anime
Game
Inazuma Eleven GO Strikers 2013
Trivia
Death Zone is the first hissatsu used in the Inazuma Eleven series.
The triangular formation of Death Zone may be a reference to the Bermuda Triangle due to conspiracies about multiple mysterious disappearances within said region.
See also
Ad blocker interference detected!
Wikia is a free-to-use site that makes money from advertising. We have a modified experience for viewers using ad blockers

Wikia is not accessible if you've made further modifications. Remove the custom ad blocker rule(s) and the page will load as expected.