Death Break (デスブレイク, Desu Bureiku) is a combination shoot hissatsu technique.
Users
Inazuma Eleven 3
Movie
Wii
Info
It appeared in the first movie used by Ogre's trio. It was stopped by Endou's Omega The Hand.
Usage
This technique requires three users. The main user kicks the ball to the air, surrounding it with a dark aura, then the main user, together with two other users kick the ball simultaneously, transforming it into a dark, spiked ball that rushes across the field towards the opposite team's goal.
Slideshow
Movie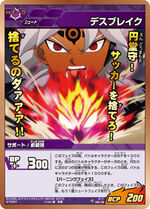 Video
Movie
Game
Inazuma Eleven GO Strikers 2013
Inazuma Eleven Online
Ad blocker interference detected!
Wikia is a free-to-use site that makes money from advertising. We have a modified experience for viewers using ad blockers

Wikia is not accessible if you've made further modifications. Remove the custom ad blocker rule(s) and the page will load as expected.