Dai Sabaku Sunaarashi (大砂漠砂嵐, lit. Giant Desert Sandstorm) is an offensive hissatsu tactic.
Users
Inazuma Eleven GO Galaxy
Info
Shamshir used it in episode 9 to break through Inazuma Japan's defense. However, it was broken through by Kusaka Ryuuji near the end of the match.
Usage
Five players first slide on the field, each creating a sand veil that eventually merges into a giant sandstorm. Then, it knocks the opposing players away.
Slideshow
Video
Anime
Game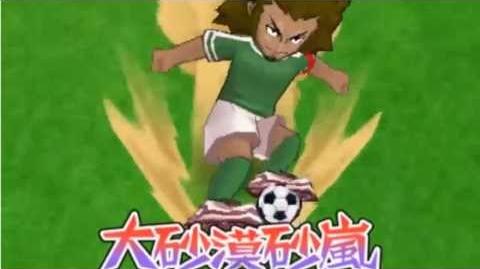 Ad blocker interference detected!
Wikia is a free-to-use site that makes money from advertising. We have a modified experience for viewers using ad blockers

Wikia is not accessible if you've made further modifications. Remove the custom ad blocker rule(s) and the page will load as expected.