Card Splash (カードスプラッシュ, Kādo Supurasshu) is a game exclusive block hissatsu technique.
Users
Usage
The user appears for the opponent and his/her book with TCG cards in it. Then, the cards fly to the opponent and the opponent blows away. The cards return to the user, who grabs them, and stands with his/her feet on the ball.
Slideshow
GO game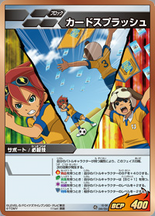 Video
GO game
Trivia
All characters that use this hissatsu are password only characters.