Brave Shot (ブレイブショット, Bureibu Shotto) is a shoot hissatsu technique.
User
Inazuma Eleven 3
Info
This hissatsu is used by the Italian captain Hidetoshi Nakata. It was used when he came back to Orpheus in the match against Inazuma Japan. Fideo tricks Japan that he is going to shoot, then he passes it to Nakata. Nakata uses Brave Shot and breaks through Ijigen The Hand and scores the third goal for Italy. Later, he uses it again to score, but Endou evolves Ijigen The Hand to Ijigen The Hand 改 and stops the shoot which made Nakata surprised.
Usage
The user flicks the ball spinning into the air and does a bicycle kick, which moves as if a force field around the ball itself formed from the impact, creating a powerful kick.
Slideshow
Anime
Video
Anime
Game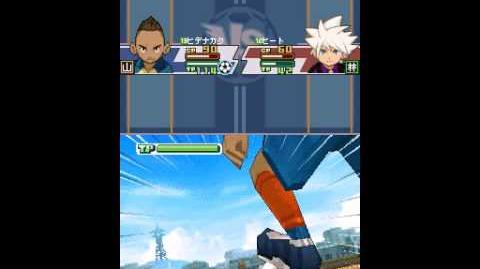 Trivia
It is one of the few hissatsu where the user in the anime is the only user in the game.
Ad blocker interference detected!
Wikia is a free-to-use site that makes money from advertising. We have a modified experience for viewers using ad blockers

Wikia is not accessible if you've made further modifications. Remove the custom ad blocker rule(s) and the page will load as expected.