Blitz Bridge
Data
JP name
ブリッツブリッジ
Dub name
Electric Impedance
Type
Block
Element
Void
Characteristic
Shoot Block
Power
80
Aura damage
15
Users
1
Evolution
Normal → V2 → V3 → V4 → S (CS)
Normal → V2 → V3 → V4 → S → ∞ (Galaxy)
TP consumption
Inazuma Eleven GO 2
27
Inazuma Eleven GO Galaxy
30
Debut
Game
Inazuma Eleven GO 2: Chrono Stone
Anime
Episode 009 (Chrono Stone)
Blitz Bridge (ブリッツ ブリッジ, Burittsu Burijji) is a block hissatsu technique.
Users
Info
It first appeared in episode 9. It was used by a robot to steal the ball from Nishiki.
Slideshow
Anime
Video
Anime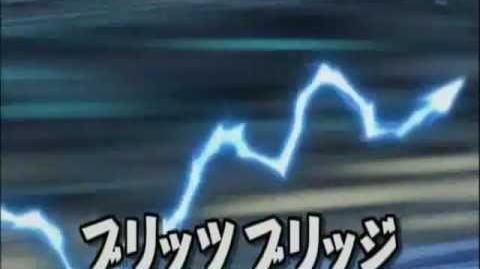 Game