Berserk Ray (ベルセルクレイ, Beruseruku Rei) is a hissatsu tactic.
Users
Inazuma Eleven GO Galaxy
Usage
The main player stands in the middle ring, surrounded by his teammates in two pentagons, creating a pattern of purple pentagon, blue pentagon and purple circle. It causes heartaches towards the Soul users in the opposite team and causes them to go berserk.
Effect
This hissatsu tactic cancels all souls that the opponent currently has activated, which makes those souls unusable for the rest of the match.
Obtainment
This Hissatsu Tactic can be obtained in the second to last treasure chest on the left path of the Taisen Route in Sazanaara.
Gallery
Slideshow
Anime
Video
Anime
Game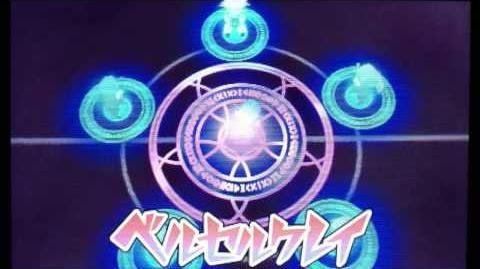 Trivia
This Hissatsu Tactic doesn't apply to Keshin, even though Keshin and Souls are both Auras.
Ad blocker interference detected!
Wikia is a free-to-use site that makes money from advertising. We have a modified experience for viewers using ad blockers

Wikia is not accessible if you've made further modifications. Remove the custom ad blocker rule(s) and the page will load as expected.