Back Tornado (バックトルネード, Bakku Torunēdo) is a shoot hissatsu technique.
Game description
Users
Info
Original series
Back Tornado first debuted in a challenge on the riverbank between Endou Mamoru and the Mukata triplets. The triplets used it to score past Endou, though he stopped one of the three shots they fired. It was used again in the match between Raimon and Kidokawa Seishuu. The first one scored the 1-0, as the power was greater than in the challenge, so Endou thought Bakuretsu Punch could stop it. Later in the match though, Endou stopped Back Tornado twice, with God Hand and Bakuretsu Punch.
Inazuma Eleven Ares no Tenbin
Back Tornado was used in the match between Seishou Gakuen and Kidokawa Seishuu, however, Amano managed to stop it with his Moja Catch.
Obtainment
Inazuma Eleven
Back Tornado can be bought for 700 Nekketsu points.
Inazuma Eleven 2: Kyoui no Shinryakusha
Back Tornado can be bought for 700 Nekketsu points.
Usage
Back Tornado is very similar to Fire Tornado. Unlike Fire Tornado, the user leaps and spins upwards in reverse with his/her foot covered in blue flames, unlike the orange flames of Fire Tornado. The user then back kicks the ball with the flame-covered foot in mid-air.
Slideshow
Original series
Inazuma Eleven Ares no Tenbin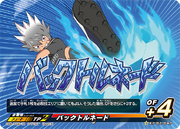 Video
Original series
Inazuma Eleven Ares no Tenbin
Game
Inazuma Eleven GO Strikers 2013