Ashiya Noboru (芦矢 昇) is the goalkeeper for Ancient Dark.
Profile
Inazuma Eleven GO
Appearance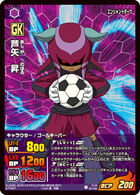 He is Ancient Dark's smallest player and has a tan skin tone, covered red eyes and wears a long light blue, wine red and grey hat which looks diabolical.
Plot
He appeared in the movie as the goalkeeper of Ancient Dark, and played against Raimon in the God Eden's forest. During the match, he easily caught Tsurugi's Devil Burst with his own hissatsu; Kill Bridge.
Game appearance
Character avatar
| | Avatar |
| --- | --- |
| Ancient Dark uniform | |
Recruitment
Inazuma Eleven GO
In order to recruit Ashiya, Zero has to be defeated first in the post-game. Also, the following requirements are needed:
After this, he can be scouted by an amount of 7690 Kizuna Points.
Stats
All stats are at level 99 and untrained.
GP: 117
TP: 197 (217)
Kick: 84
Dribbling: 95
Technique: 90 (110)
Block: 80
Speed: 88
Stamina: 86
Catch: 122
Lucky: 86
GP: 119
TP: 165 (185)
Kick: 81
Dribbling: 95
Block: 128
Catch: 165
Technique: 114 (134)
Speed: 94
Stamina: 107
Lucky: 75
Freedom: 78
GP: 119
TP: 165 (185)
Kick: 81
Dribbling: 95
Block: 128
Catch: 165
Technique: 114 (134)
Speed: 94
Stamina: 107
Lucky: 75
Hissatsu
Inazuma Eleven GO
Inazuma Eleven GO 2: Chrono Stone
Inazuma Eleven GO Galaxy
Keshin
Inazuma Eleven GO
Inazuma Eleven GO 2: Chrono Stone
Inazuma Eleven GO Galaxy
Game exclusive teams
Inazuma Eleven GO
Inazuma Eleven GO 2: Chrono Stone
Inazuma Eleven GO Galaxy